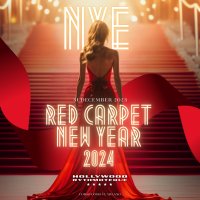 RED CARPET GALA - Happy New Year 2024
Celebrate the new year in style with the best party in town! Hollywood Milano is the place to be! Join us on December 31st, 2023, for a night of endless celebration.
As the clock ticks towards midnight on December 31, 2024, Hollywood Milano is set to become the epicenter of an unprecedented event: the RED CARPET GALA - Happy New Year 2024. This event promises to be an unforgettable experience, blending the elegance of a gala evening with the excitement and enthusiasm of a festive New Year's celebration.
Imagine walking down the red carpet, surrounded by the glimmer of twinkling lights and the echo of camera flashes. Every detail is meticulously arranged, from the sumptuous decorations adorning the setting to the music filling the air, creating an atmosphere that is both exclusive and electrifying.
Guests at the gala will be welcomed into a magnificently decorated hall, where luxury and style merge to create a dreamlike atmosphere. Elegant chairs, tables adorned with silk tablecloths, and sparkling centerpieces will contribute to an environment of sophistication and refinement. Soft lighting and candles scattered throughout the venue will add a romantic and mysterious touch to the evening.
The menu for the night will feature a selection of gourmet dishes, each carefully crafted to tantalize the palate. Expert chefs will prepare a culinary feast, reflecting the sophisticated tastes of Milanese cuisine, and each dish will be paired with exquisite wines, chosen to complement the flavors perfectly.
As the evening progresses, the music will transition from elegant background melodies to lively beats, inviting guests to the dance floor. The DJ, a master at creating the perfect party atmosphere, will spin a mix of current hits and timeless classics, ensuring the dance floor remains vibrant and full of energy throughout the night.
The highlight of the evening will be the countdown to midnight. As guests raise their glasses in a toast to the New Year, the club will come alive with the sounds of celebration, marking the arrival of 2024 with a brilliant explosion of lights and colors.
After midnight, the party will continue into the early hours of the morning, with music, dancing, and revelry. The RED CARPET GALA - Happy New Year 2024 at Hollywood Milano will not just be a celebration; it will be an indelible memory, a unique and dazzling way to bid farewell to the old year and welcome the new with enthusiasm.