---
---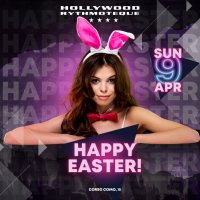 "Happy Easter" is the Hollywood Milano event that celebrates Easter on Sunday 9 April 2023. This special night is dedicated to all those who want to have fun and dance until dawn in a unique and engaging atmosphere.
"Happy Easter" is the event not to be missed for those who want to spend an original and fun Easter with the best company, immersing themselves in the magic of the Milanese night.

"Happy Easter" è l'evento di Hollywood Milano, che celebra la Pasqua il giorno: Domenica 9 Aprile 2023. Questa notte speciale è dedicata a tutti coloro che vogliono divertirsi e ballare fino all'alba in un'atmosfera unica e coinvolgente. 
"Happy Easter" è l'evento da non perdere per chi vuole trascorrere una Pasqua originale e divertente con la migliore compagnia, immergendosi nella magia della notte Milanese.